Coeliacs and gluten intolerant individuals can find eating a bit of a challenge. However buying pre-made food is easier than ever for those emergency days, but on the whole, with a little organisation, avoiding gluten on Barefaced Eating can be quite an easy thing to do. Bakes and breads can be difficult to get right at home, so here are some recipes that can give you the results you want without a heap of frustrating mistakes!
Description
This is the easiest gluten free bread to make and quick too! I cook this for my non-coeliac family for a great addition to a soup, just because it's a slightly different texture from the usual flour and good…
---
Description
Gluten Free pastry can sometimes be a little challenging. This recipe gives a great shortbread that you can rely on. It will stay crisp for 3-4 days and has all the buttery flavour we all love. Add some…
---
Description
These crackers are the most deliciously addictive snack I have ever put together! No added salt, the flavour is all from the intense sun dried tomatoes (the "not in oil" ones) and I warn you, make a double batch!
---
Description
This is NOT a dry loaf, it's moist (please, someone come up with a different word meaning the same!), nutty, full of flavour, will not crumble and is full of protein! Can anyone eating wheat with their white sandwich loaf…
---
Description
>25g Psyllium Seed Husks >¾ cup of warm water >125g Coconut Flour >1 ½ tsp GF Baking Powder >¾ tsp sea salt >5 eggs >3 tbsp Coconut Oil (melted) >4 tbsp unsweetened nut milk For The Strawberry Chia Jam > a medium punnet fresh strawberries > 1 tbsp chia seeds >…
---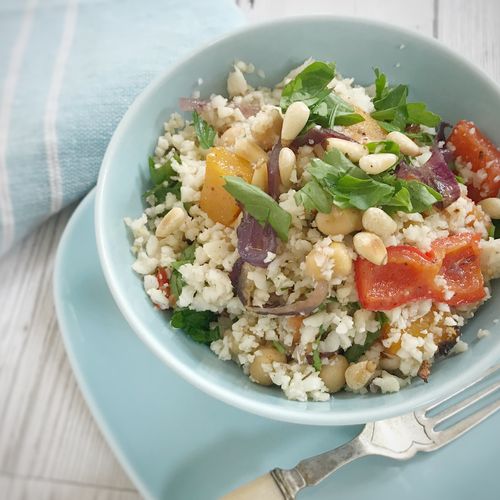 Description
I have tried a few ways to encourage my family to embrace the cauliflower in to their diets. They are quite polite though and do eat the varied ways this appears on their plates without too much complaint. …
---
Description
How about a healthy snack that is great for when you're out and about? I put this recipe together for www.thefoodrush.co.uk, who needed some ideas for getting children cooking in the kitchen. Forget the premixed bags that are…
---